La risposta al processore Apple A7 arriva oggi da Qualcomm con l'annuncio ufficiale della nuova famiglia di processori con architettura a 64-bit Snapdragon 808 e Snapdragon 810.
Entrambi i processori integrano un modem di quarta generazione LTE Advanced Cat. 6, garantendo una velocità di trasmissione sino a 300Mbps, e sono caratterizzati da un consumo limitato grazie alla sostituzione del processo produttivo a 28nm con il processo a 20nm.
Il processore Snapdragon 810, costituito da quattro core a 64-bit ARM Cortex-A57 e Cortex-A53, è in grado di supportare la definizione 4K UHD e permette di girare video in 4K a 30fps o in FHD a 120fps con sensori fino a 55 megapixel.
Il software di gestione avanzata dell'immagine consente di ottenere fotografie di grande qualità con ottimi bilanciamenti del bianco ed un veloce focus anche in condizioni di scarsa luminosità.
La GPU Adreno 430 è appositamente progettata per i display 4K, offrendo un performance grafica fino al 30% superiore ed un consumo fino al 20% inferiore rispetto alla generazione precedente, rappresentata dalla GPU Adreno 420.
Il processore Snapdragon 808, costituito da due core ARM Cortex-A57 abbinati alla CPU quad-core Cortex-A53, presenta le medesime caratteristiche del processore sopra descritto, con la differenza che è stato progettato per supportare i display con risoluzione WQXGA 2560×1600 tramite la nuova GPU Adreno 418, 20% più veloce della precedente Adreno 330.
"L'annuncio dei processori Snapdragon 808 ed 810 sottolinea l'impegno da parte di Qualcomm Technologies nel mantenere la leadership ed il vantaggio in termini di commercializzazione per offrire ai nostri clienti smartphone e tablet con processori a 64-bit LTE", ha affermato Murthy Renduchintala, vice presidente esecutivo di Qualcomm Technologies. "Questi annunci, assieme allo sviluppo continuo della nostra prossima generazione di CPU a 64-bit, garantirà una solida base su cui innovare, mentre proseguiremo a spingere in avanti i confini delle performance della tecnologia mobile negli anni a venire".
Snapdragon 808 e Snapdragon 810 saranno disponibili a partire dalla seconda metà del 2014 e verranno utilizzati nella realizzazione di nuovi device a partire dalla prima metà del 2015.
A seguire viene riportato il comunicato stampa in lingua inglese di Qualcomm.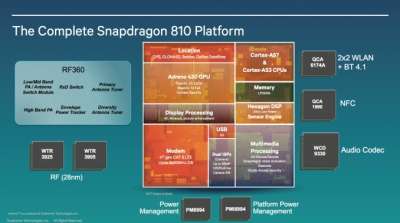 Qualcomm Snapdragon 808 ed 810
SAN DIEGO – April 07, 2014 – Qualcomm Incorporated (NASDAQ: QCOM) today announced that its wholly-owned subsidiary, Qualcomm Technologies, Inc., introduced its next- generation mobile processors for the Qualcomm® Snapdragon™ 800 tier, the Snapdragon 810 and 808 processors, which are designed to deliver the ultimate connected mobile computing experiences in video, imaging and graphics. The Snapdragon 810 and 808 processors are Qualcomm Technologies' highest performing platform to date, completing Qualcomm Technologies' lineup of 64-bit enabled, LTE-equipped chipsets for premium mobile computing devices. The Snapdragon 810 and 808 processors enable an exceptional overall user experience with seamless connectivity and industry-leading power efficiency for flagship smartphones and tablets.
Both the Snapdragon 810 and Snapdragon 808 processors integrate Qualcomm Technologies' 4th Generation Cat 6 LTE Advanced multimode modem together with support for the Qualcomm RF360™ Front End Solution, and support 3x20MHz Carrier Aggregation, enabling speeds of up to 300 Mbps in the broadest set of spectrum deployment configurations to date. Both processors are designed in 20nm technology node with Cat 6 LTE, advanced multimedia features and 64-bit capability, all tightly integrated and optimized for exceptionally low power consumption that does not sacrifice performance, making them the first premium-tier 64-bit processors to enable LTE Advanced globally with a single design. These products underscore Qualcomm Technologies focus on 64-bit leadership, accelerating its availability across all product tiers while maintaining a long-term commitment to the continued development of its own next-generation custom 64-bit CPU microarchitecture, with more details expected to be shared later this year.
The Snapdragon 810 processor, as Qualcomm Technologies' highest performing Snapdragon platform to date, also supports:
– Rich native 4K Ultra HD interface and video, along with an upgraded camera suite using gyro-stabilization and 3D noise reduction for producing high quality 4K video at 30 frames per second and 1080p video at 120 frames per second. The combined 14-bit dual Image Signal Processors (ISPs) are capable of supporting 1.2GP/s throughput and image sensors up to 55MP. Advanced imaging software helps enable advanced mobile camera features, including enhanced exposure, white balance and fast low light focus.
– The combined 64-bit quad core ARM Cortex-A57 CPUs and Cortex-A53 CPUs are designed to enable an improved user experience based on the advanced technology feature set, while implementation of the new ARMv8-A ISA enables improved instruction set efficiency. Designed for 4K displays, the new Qualcomm® Adreno™ 430 graphics processing unit (GPU) provides support for OpenGL ES 3.1 plus hardware tessellation, geometry shaders and programmable blending. The Adreno 430 is designed to deliver up to 30% faster graphics performance and 100% faster GPGPU compute performance, while reducing power consumption by up to 20%, as compared to its predecessor, the Adreno 420 GPU. The Adreno 430 GPU also enables a new level of GPU security for secure composition and management of premium video and other multimedia.
– The Snapdragon 810 processor introduces high speed LPDDR4 memory.
– Frame buffer compression and external 4K display support via HDMI1.4.
– First mobile platform to implement Qualcomm® VIVE™ 2-stream 802.11ac with multi-user MIMO, which makes Wi-Fi® networks more efficient than ever in order to maximize the performance of local connectivity for mobile devices.
– Support for Bluetooth® 4.1, USB 3.0, NFC and the latest Qualcomm® IZat™ location core for ubiquitous and highly accurate location services.
The Snapdragon 808 processor is designed for premium performance and integrates the same LTE-Advanced, RF360 and Wi-Fi connectivity as the Snapdragon 810 processor and includes 2K display support. Both chipsets are fully software compatible with the 64-bit ARMv8-A instruction set. The primary differences of the Snapdragon 808 processor include:
– Designed for WQXGA (2560×1600) displays, the new Adreno 418 GPU provides support for OpenGL ES 3.1 plus hardware tessellation, geometry shaders, programmable blending. It is designed to support up to 20% faster graphics performance than its predecessor, the Adreno 330 GPU. The Adreno 418 GPU also enables a new level of GPU security for secure composition and management of premium video and other multimedia.
– Configured with two ARM Cortex-A57 cores paired with a quad Cortex-A53 CPU.
– 12-bit dual Image Signal Processors.
– LPDDR3 memory.
– Frame buffer compression and external 4K display support via HDMI1.4.
"The announcement of the Snapdragon 810 and 808 processors underscore Qualcomm Technologies' continued commitment to technology leadership and a time-to-market advantage for our customers for premium tier 64-bit LTE-enabled smartphones and tablets," said Murthy Renduchintala, executive vice president, Qualcomm Technologies, Inc., and co-president, QCT. "These product announcements, in combination with the continued development of our next-generation custom 64-bit CPU, will ensure we have a tremendous foundation on which to innovate as we continue to push the boundaries of mobile computing performance in the years to come."
The Snapdragon 810 and 808 processors are anticipated to begin sampling in the second half of 2014 and expected to be available in commercial devices by the first half of 2015. More information can be found at www.qualcomm.com/snapdragon. Developers can find tools to optimize their apps for Snapdragon processors at http://www.developer.qualcomm.com.
Except for the historical information contained herein, this news release contains forward-looking statements that are subject to risks and uncertainties, including Qualcomm Technologies' ability to successfully design and have manufactured significant quantities of Snapdragon 808, Snapdragon 810 processors and next-generation CPU microarchitectures on a timely and profitable basis, the extent and speed to which the Snapdragon platform is adopted, change in economic conditions of the various markets Qualcomm Technologies serves, as well as the other risks detailed from time to time in Qualcomm Incorporated's SEC reports, including the report on Form 10-K for the year ended September 29, 2013, and most recent Form 10-Q.
About Qualcomm Incorporated
Qualcomm Incorporated (NASDAQ: QCOM) is a world leader in 3G, 4G and next-generation wireless technologies. Qualcomm Incorporated includes Qualcomm's licensing business, QTL, and the vast majority of its patent portfolio. Qualcomm Technologies, Inc., a wholly-owned subsidiary of Qualcomm Incorporated, operates, along with its subsidiaries, substantially all of Qualcomm's engineering, research and development functions, and substantially all of its products and services businesses, including its semiconductor business, QCT. For more than 25 years, Qualcomm ideas and inventions have driven the evolution of digital communications, linking people everywhere more closely to information, entertainment and each other. For more information, visit Qualcomm's website, OnQ blog, Twitter and Facebook pages.

Smartphone