La casa finlandese ha rilasciato il nuovo firmware 11.049 per il Nokia N79, che cambia notevolmente le performance del telefonino.
Si tratta infatti di un corposo aggiornamento che introduce molte novità nello smartphone SerieN ed elimina molti bugs.
Di seguito riportiamo il change-log in lingua inglese completo.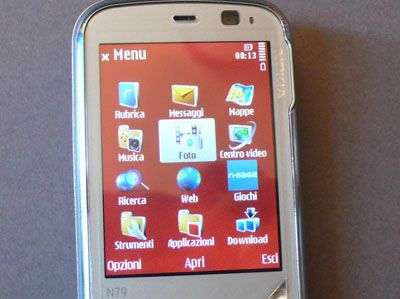 Nokia N79
Changes/improvements made from MCU SW version 10.046 to version 11.049:

New features:
– New version of N-Gage
– New version of Mail for Exchange
Changes:
Active Idle
– Search & WLAN information difficult to read in Active Idle.
– Active Idle screen becomes blank in landscape mode.
– Default Active Idle shortcuts configured.
– Active Idle going dead after quickly accepting and rejecting an incoming video call.
– White boxes shown on the screen while doing orientation change quickly in idle mode.
Application Manager
– The sis file which is installed to MoviNand or SD card cannot be seen in application manager.
– Wrong Feature Manager flag used for seamless link functionality.
– Flashlite sis installation is not successful in the first attempt.
Application Update
– Unable to upgrade graphic icons in Media Player / Media Settings via sis file.
– Unable to upgrade ROM based UI application by installing new version to memory card.
– Application Update self-update never completes.
– Upgrade of BrowserAudioVideoPlugin.rsc via sw installation is not possible.
– Upgrade of Connection Manager via sw installation is not possible.
Audio Performance
– Tunings improvements for IHF audio.
– Keypad tones cannot be tuned for IHF.
Auto-Rotate
– UI Accelerator toolkit (Hitchcock/Alfred) stub file missing.
– Locking keys and then opening camera reveal confuses orientation sensor.
– Disable orientation in alarm ringing, incoming call and semi active state.
– Panic after orientation change.
Bluetooth
– Bluetooth headset disconnects when Wireless Keyboard is disconnected from the phone automatically.
– Phone panics when changing views in Bluetooth menu while choosing the last connected device from paired view.
– Phone crashes and doesn't disconnect correctly in audio gateway.
– BT stereo audio drops when using certain accessories.
Bookmarks
– Pre-defined browser bookmarks missing from APAC2 variant.
– Added empty folder in Americas bookmarks to make embedded bookmarks work.
– Bookmark shortcuts revert to prior setting following backup.
Browser and Streaming
– After selecting a link in Expedia website, a panic occurred and "Application closed: !CookieServer" is shown.
– Device crashes upon receiving a big cookie in an HTTP response.
– Hotspot Browser Login UI not scalable.
– Browser launch in embedded mode with custom access point setting does not work.
– Reconnecting to streaming content doesn't work and default connection is changed to "Always ask" after trying to connect again.
– Note "MediaPlayerTemp has not been saved. Save now" displays when user exits preview in BrowserNG.
– 30s timer for out-of-coverage monitoring in the browser utilities is too short
– ITU keypad lights stays off when browsing in landscape mode.
– Helix crash or general "memory full" issue occurred when streaming a high resolution clip (704×576) and high bit rate (3Mbip/s).
– PP bit #165 flag should be off.
Calendar
– Calendar plug-in displays events incorrectly.
– Alarms missed note shown when Calendar is opened even when there are no missed alarms.
Camera and Video
– Indicator LED is not on.
– Application closed: Image viewer is shown after pressing Send key many times.
– LED flash is weak.
– Still capture and video recording with main camera does not work when there is a HW fault with acme secondary camera.
– Capture tone and Internet Radio play simultaneous when capture button is pressed when camera is auto focusing.
– Sometimes images captured in dark conditions are totally white
– Front camera image rotation is not working properly.
– Camera crashes if IVE policy server releases client immediately after reserve.
– Camera view finder opens when keylock is on.
– Camera freezes when capturing video with "Normal" quality and when Photos application is not closed after clip has been watched.
– Phone does not go to sleep after opening/closing camera reveal.
– Keylock activation plus opening camera reveal causes new camera instance started.
– Camera shutter and volume key lights are OFF when secondary camera is in use.
– Camera reveal open/close events are not executed when keypad is locked.
– Device does not go to sleep correctly after using camera.
– Error note "Unexpected error occurred…" displays and Camera cannot be used unless reboot DUT after playing one video clip in different Phone mode on TV.
– After recording and then deleting the video, the camera LED flashes once when back to video mode.
– Image and video counter do not display all digits in settings views.
– Camera is disabled if keylock is pressed (unlocked) during video call.
– Camera preview opens even in keylock.
– Camera application is started even when device is locked.
– Phone does not go to sleep after opening/closing camera reveal.
– Recorded video time counter disappears when another video is captured subsequently.
– Camera viewfinder is shown incorrectly after opening the lens cover when camera is opening.
– Camera cannot be launched when device is in Landscape view.
– Changing to secondary camera when viewfinder is not yet shown causes unexpected error.
– Video camera is not started after few repeats.
– Camera crashes when opening video quality settings rapidly after recording.
– Phone is in still image viewfinder mode when answering an incoming call in burst mode.
– Pressing applications key immediately after starting video capture causes post-capture image to be missing when returning the camera from background.
– Cannot play video sometimes after recording has stopped.
– Phone reboots when recording is started.
– The note of "Unexpected error occurred. Restart phone" pops up when receiving a BT message in recoding state.
– Wrong view is shown when using secondary camera while video playback is paused in the background.
– Viewfinder image quality seriously degrades when recording a video.
– Video playback hangs in application switch use case.
– Crash is detected after recording high quality video clips for 50 iterations.
– Camera jams when stopping video recording.
– The camera hangs when the recording has been paused for one minute.
– Video stabilisation not working.
– Overlapping functionality when pressing Volume/Zoom key in Camera (music is playing in background).
– Keylock plus opening camera reveal causes new camera instance to be started when in Messaging.
– Backlight automatically turned off during video playback.
Clock
– The clock in application status pane is not updated after power-saver deactivates.
– Phone lost correct time during power off.
– Removing battery during alarm makes the device unusable.
– Alarm alert dialogue box disappears if setting new alarm when alarm goes off.
– Display light remains on when clock/calendar alarm is not cancelled or snoozed.
Connectivity
– Device panics when headset is powered on/off very fast.
– Nothing is heard when 616 car kit and wired headphone is connected to the phone during MT CS call.
Contacts
– Contacts application closed after selecting "All contacts" in Multimedia menu.
– Pre-defined Contacts does not support Chinese characters.
– Search pane does not work after deleting one contact in Chinese mode.
– Contact name with enter key is displayed incorrectly in Sender list view after importing it from Contacts.
– Adding new number from SMS to existing number in ADN causes number to corrupt.
Default Settings
– Some default settings values are against the specs in Russian variant.
– Default USB connection mode is Mass storage. It should be PC Suite.
Device Management
– Delivery via Device Management corrupts EAP-FAST PAC file.
File Manager
– The music in File Manager is played when pressing Pause/Play key on headset.
– File manager crash when in USB mass storage connection and trying to copy with Remote drive.
– Unable to open or delete file whose name contains illegal characters.
– Mark/Unmark menu item displays additional 'Mark All' sub-menu item even when all items
are already marked.
FM Radio
– S60 3.2 phones allow user to tune to FM frequency lower than 87.5MHz.
– Current Playing Radio item is not shown in idle state of screen after changing standby theme from Basic to Horizontal icon bar.
FM Transmitter
– FM transmitter deactivated after receiving a voice call.
– Audio playback is heard from stereo BT when FM TX is activated.
– FM TX Chirp signal does not switch off after 5 minutes.
– FM TX usability improvements implemented.
– FM transmitter still transmits when headphones attached.
– IHF cannot be enabled during call when FMTx is on.
FOTA
– Mobile crash after updating the phone with dummy package using FOTA.
– FOTA Suspend and Resume: Resume download doesn't work when DM server uses Silent mode.
Gallery
– Naviscroll behaviour is jumpy in Gallery.
– MPXCollectionserver and SQL Server consuming 20% of CPU for just viewing and switching between images using navikey.
– Naviscroll light is ON only in Gallery/Images folder.
Help
– The help topic for Theme switch can't be opened.
– Description about Podcasting in Help is incorrect.
– The Help topics about "video sharing" and "video calls" need to be removed in EDGE variant.
– Help data is missing for some options related to access points.
– Help application hangs after selecting Naviwheel setting link in Help.
– Boxes in Help text in Finnish language.
– Strange text exists in Help text for Office Folder in Simplified Chinese language.
– Duplicate word ""Drucken"" in Photos Help topic in German language.
– Most of the help topics are missing when English is in use in Thai variant.
– Some words are localized to incorrect language in Help topics in Bahasia Indonesia language.
– Help topics missing from Camera -> Options -> Customise toolbar -> Options ->Help.
– 'Frequency presets' topic is missing in the help of 'Equaliser'.
– The Application launching link 'Music player' does not work in the Help topic of 'Edit frequency presets' .
– A blank page is opened when clicking 'Internet call connectivity sett.' link in Internet call settings in Help.
– Audio themes application can not be opened when clicking the link from Audio themes in Help.
– Strange text exists in Help text for Games tile when in Chinese language.
– Many question marks in Help for software checker (NSC) in Chinese translation.
– Helps are missing from American-English.
– Some words in Help are localized to incorrect language.
– Wrong help topic opens for Help topic "Sensor settings" in localised English.
– The help content of SW Checker is not shown correctly in Chinese language.
– A few display texts are shown as logical names in Chinese language
Home Media
– Phone UI conflict after playing video and music at same time.
– Upload to Corel DMS failed.
– Filename extension is missing or wrong (.mp3) from downloaded WAV-audio files.
– Share content view is not updated properly.
– Content server crash when C-drive is full.
– None is still displayed for home access point after creating new access point in Home Media.
– Unable to copy image and video files when home network is Orb server.
– Create new access point doesn't work properly.
– Changing "hide phone" to "show phone" sometimes results with crash.
– Selected device's Music and Uploaded folders can not be accessed in Home Media.
– Phone crashes when Home Media application is closed.
– DRM file is not skipped when copying files from handset to media server.
– 'Application closed: MediaServer_MainThread' displays during sharing if memory is almost full.
– Images & Videos updating dialog box is not refreshed if "Visibility in network" has been changed during sharing many images.
– Print server crashes connecting to UPnP printer.
– Media Servant did not harvest all
Nokia
Smartphone